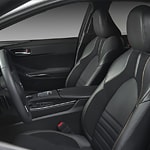 Despite the Toyota Avalon having several areas with appealing features for Topeka, KS Toyota drivers, the interior features, Clint Bower Autoplex insists, should not be carelessly looked over. The interior trim is made from aluminum, wood, and graphite leather. Whether you look at the door panels or dash of your Toyota Avalon, you are sure to appreciate those trim materials.
On top of these attractive trim materials, another benefit of driving in a Toyota Avalon's interior is getting to use the heated steering wheel. All you need to do to use your Avalon's heated steering wheel is press a button, and the steering wheel will begin to warm enough to protect your hands from the cold weather while driving.
Finally, the instrument panel and touchscreen are excellent additions to the Toyota Avalon's interior. The distinct center panel and 9" screen create a pleasing Toyota Avalon interior.