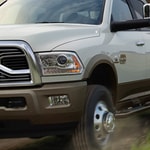 The heavy-duty remains the pickup of choice when needing a reliable vehicle for tough daily tasks. The truck just as easily faces the challenge of weekend escapes with an RV in tow. Consumers may now match the vehicle's interior to reflect the owner's taste.
Choose fabric, vinyl, or 100 percent leather upholstery for the cabin, which is specially crafted with noise-canceling features that ensure a quieter ride. Upscale interiors might also feature real wood and metal accents to increase the luxury factor. Models having extended cabs feature plenty of rear-seat room and concealed storage compartments. The seats also recline for added comfort on long road trips. Enhance the visibility and functionality of the infotainment touchscreen by enlarging it to 12 inches. The system also enables split-screen views for convenience. Beef up the sound system to include a premium stereo, 19 speakers, and a 750-watt amplifier.
See the new Ram 3500 trucks on our Emporia, KS Clint Bowyer Autoplex website. While there, schedule a road test.