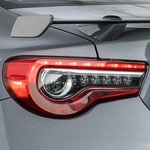 The Toyota 86 is an all new design and includes an excellent base engine. The sporty coupe features a rear-drive design that includes a 2.0-liter, four-cylinder boxer engine. The smooth ride and balanced chassis with smooth steering. It's easy to take winding turns and accelerate on Emporia highways with the Toyota 86.
The standard engine delivers 205 horsepower and 165 pound-feet of torque. The super premium trim Hakone Edition includes 17-inch wheels, new interior, and TRD handling. The upgraded performance package also comes with Brembo brakes, 18-inch wheels, and Michelin Pilot Sport 4 tires. Fuel efficiency is one of the best for this four-cylinder engine, getting up to 32 mpg on the highway.
At Clint Bowyer Autoplex, you'll find all of the 86 trims available, including a six-speed automatic transmission. With more affordable packages, the zippy performance features in the 86 make it exceptional for drivers who want a stiff suspension and sticker tires.