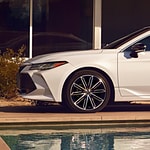 One test drive confirms why the Toyota Avalon is the maker's flagship full-size sedan in the states. It's big, safe, high-tech and quite capable on city streets and even on rugged back roads. Its performance features are the reason why. Here are a few that our Clint Bowyer Autoplex team really appreciate.
Continuous Damping
Suspension damping absorbs bumps in the road, maintaining driver control and passenger comfort. The Toyota Avalon boasts Adaptive Variable Suspension with continuous damping that adjusts instantaneously. This instantaneous adjusting keeps the Toyota Avalon prepared for anything that Emporia streets can dish, preserving optimal handling.
The Roar of a Race Car's Heart
If you crave a powerful ride that roars like a lion at every turn, the Toyota Avalon has you covered. Its Intake Sound Generator and exhaust emit aggressive acoustics as you negotiate paved streets and dirt roads. Plus, an Engine Sound Enhancement feature captures the engine's rumble and broadcasts it into the cabin via the Toyota Avalon's speaker system.